Coworking Spaces Suit Corporate Needs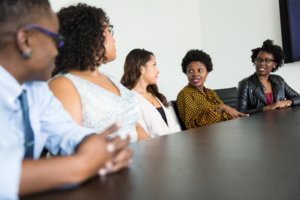 Just when you thought entrepreneurs and freelancers dominated coworking spaces, corporations have taken notice of the same benefits that startups and solopreneurs enjoy in flexible offices. Corporate companies are increasingly leveraging the benefits of coworking spaces in lieu of growing their own real estate footprint.
Whether they want to identify their brand with innovation and technology, keep their employees happy, or want to save some money or look better on their balance sheets, corporations are joining the entrepreneurs, freelancers, and startups using coworking spaces. And they hope to fuel collaboration by locating their employees next to those very solopreneurs and new businesses.
Forward-Thinking Identity & Branding
By associating themselves with innovation, collaboration, and technology, corporate brands differentiate themselves from competitors. By working from coworking spaces, corporations better position themselves to hook innovative business opportunities. By collaborating with entrepreneurs who sit alongside them in the coworking space, corporate employees enjoy inspired innovation. The desire to establish a forward-thinking identity fuels corporations' decisions to embrace coworking space.
Employee Satisfaction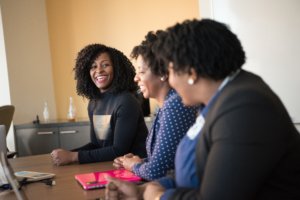 Corporate employees who work in coworking spaces report the same experiences as their freelancing and entrepreneurial counterparts: they feel inspired; they feel in control; they're learning skills faster; and they're making more connections while working in a coworking space. The innovation and collaboration appear to be a win-win for both employees and their corporate bosses alike.
Saving Money
By saving companies 20-40% in costs compared to a lease for a regular office, coworking spaces offer measurable savings for corporations that locate an entire team at a coworking space. Avoiding setup costs and overhead, corporations can quickly expand into a new market via a coworking space. Everything is taken care of, including furniture, design, cleaning, and building management. Not only do corporate companies save money on coworking spaces, but they also streamline the process of moving into a new area or new space, saving everyone time.
Leases Now Liability on Balance Sheets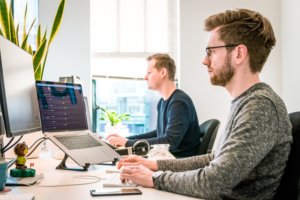 Whether decision-makers are looking to reduce costs or take advantage of flexible lease terms, they respond to pressure to decrease real estate operating costs, including the claimed need for space. In addition to the high price of real estate, publicly traded companies have had to list leases of 12 months or longer on their balance sheets as both assets and liabilities since the start of 2019. Large private companies have had to do the same since the beginning of 2020.
With fears that these long-term fixed financial obligations in clear sight will impact market valuations and credit ratings, corporations are looking to coworking space to keep lease commitments short and, possibly, off of the balance sheet.
Sunrise Solars Coworking: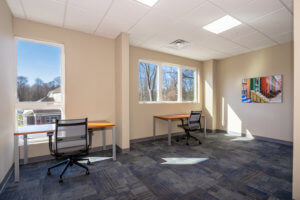 Sunrise Solars Coworking offers the amenities and technology that corporate companies seek while saving them money and providing the convenience of "everything included." With its new passive solar building, oversized windows, fitness room, and walking trail, Sunrise Solars will inspire corporate employees to bring new ideas to their brand.
Serving the New York Capital Region, Sunrise Solars offers coworking or private office memberships with bookable conference room time included. Enjoy safe meetings in a conference room or in the privacy of your own office with the peace of mind that our high-quality air filtration system brings to you and your colleagues.
Whether you need a private office, a coworking all-access pass, or a ten-day pass, Sunrise Solars features several options, including renting a conference room by the hour for non-members.
Amenities:
Bookable meeting rooms with conference tech
Centrally located in Latham
New passive solar building
Ultra-fast, secure Internet
Free coffee
Free printing credits
Kitchen and break room
Free Parking
Walking Trail
Fitness room access
Shower
High-quality air filtration
Oversized windows