Social and Work-Life Balance Advantages to a Coworking Environment
Workers Are Discovering the Value of Separating Work from Home
If you've been working from home like many of us during the last year or so, you may be rethinking the idealized vision of the work-from-home lifestyle: no hour-long grooming session, no commute, and pajama-wearing all day. Many of us have learned that there is value in creating a work-life balance and that there are advantages to separating work from home.
For those who have either committed to working from home permanently or whose companies have transitioned to decentralizing their workforce - or even for those who started a new business in the wake of our economic disruption, a coworking environment can provide the perfect solution to the social restraints and the lack of work-life balance when working from home.
Social Advantages to Coworking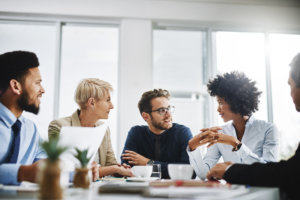 Among the many advantages of coworking, surrounding yourself with like-minded people can alleviate the feelings of isolation and loneliness that often accompany working from home. Interacting with "coworkers" fulfills a social need, and it helps that those same coworkers have also engaged in an independent work approach similar to yours.
A Small Business Labs survey shows that there are social benefits from sharing a coworking space, especially for those who work independently. With 87% of respondents reporting that they meet other members of their coworking space for social reasons, the survey reveals the social motivation behind joining a coworking space. 83% reported that they are less lonely since joining their coworking space, with 79% reporting that coworking expanded their social network.  Coworking can be the cure to a loneliness epidemic impacting people who work alone or who work remotely.
Whether you're commiserating over shared frustrations or seeking valuable insight, or simply bouncing ideas off of your coworking colleagues, sharing a coworking space is a networking opportunity with social benefits.
Separating Work from Home and Its Advantages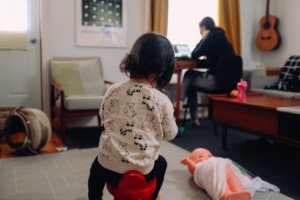 Without the accountability of leaving home for work, it's way too easy to watch television, raid the fridge, or even lie in bed while working from home. While professionals tell us to get dressed for work even when working from home, we can take the idea behind this concept one step further. To put us in the mind frame of "working," we can actually "go" to work in a coworking space.
Rather than deal with the distractions of family and chores, we can work from a space dedicated exclusively to work. Separating work from home adds the accountability aspect to your workday and adds to the energy generated by interacting with your fellow workers in your coworking space.
Beyond Our Personal Stories
Coworking spaces may prove to be more valuable in the post-pandemic world than they were before we experienced the effects of COVID-19. Beyond an individual's desire to socialize and separate work from home, coworking spaces can help communities recover and rebound. By leaning on social networks and local connections that coworking spaces can provide, small businesses can leverage the power of coworking spaces to withstand the potential of ever-present social distancing measures and their effects.
Where To Go When Companies Decentralize
While solopreneurs, freelancers, and small business owners can benefit from the social interactions and work-life balance a coworking space can offer, employees from large companies can also enjoy the benefits of coworking space. To mitigate the effects of the pandemic and avoid future disruptions to centrally located offices, companies are helping their employees transition from a work-from-home situation by locating them in coworking spaces.
Sunrise Solars Coworking Offers the Social Advantages and Work-Life Balance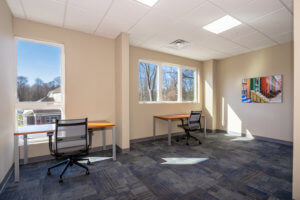 If you find you don't need a large office all to yourself, and if you don't want to experience the isolation and loneliness of working from home, Sunrise Solars Coworking can be your middle ground. Serving the New York Capital Region, Sunrise Solars offers coworking or private office memberships with bookable conference room time included. Enjoy safe meetings in a conference room or in the privacy of your own office with the peace of mind that our high-quality air filtration system brings to you and your colleagues.
Whether you need a private office, a coworking all-access pass, or a ten-day pass, Sunrise Solars features several options, including renting a conference room by the hour for non-members.
Amenities:
Bookable meeting rooms with conference tech
Centrally located in Latham
New passive solar building
Ultra-fast, secure Internet
Free coffee
Free printing credits
Kitchen and break room
Free Parking
Walking Trail
Fitness room access
Shower
High-quality air filtration
Oversized windows
Created 5/21/21