Sparking Innovative Ideas Through Fresh Air and Movement
Sparking Innovative Ideas Through Fresh Air and Movement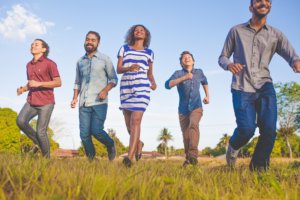 While it may seem like common sense, fresh air and movement can help our minds and bodies gain new vitality. When you want to spark innovative ideas, skip the coffee break or snack break. Instead, breathe in some outdoor air and move your body! Whether you crack open a window for some airflow, or you head outside for a quick walk, or you even visit the gym for some exercise, you have an abundance of options when it comes to getting the blood flowing, as well as the ideas going.
What Fresh Air Can Do for You
Fresh air really does a body good. Research studying the effects of trees and forests on air quality and human health in the United States showed that trees and forests removed 17.4 million tons of air pollution in 2010, thereby preventing 850 deaths and 670,000 respiratory symptoms. Open those windows and breathe in that air.
Take a Break from Indoors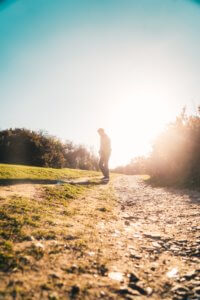 Beyond opening your windows, actually heading outdoors offers a series of benefits from improved immune health to increased liveliness. Being in close contact with others while indoors can put you in close contact with their germs. According to Health.com, heading outdoors can not only gives you a break from all of those germs but walking outside also boosts boost your immune system
As an added benefit, heading outdoors makes you feel more alive. It's like an instant invigorator. Studies show that being outdoors is associated with greater vitality enhanced by the natural elements of your outside environment.
A series of studies show that a great way to get energized is to connect with nature rather than reaching for a cup of coffee. People with a greater sense of vitality not only have more energy to pursue their innovative ideas, but they also are more resilient to illness. Spending more time in a natural setting can lead to a healthier you, allowing you to approach the task at hand from a new perspective.
Move Your Body
According to a study published in Frontiers in Psychiatry, regular aerobic activity reduces anxiety and positively impacts a number of biological and psychological mechanisms. If you need all of your brainpower to focus on your ideas and not on your anxious thoughts, an aerobic workout might do the trick.
Exercise can also serve as a substitute for antidepressants and psychological therapy in the treatment of depression, according to another study. Anxiety and depression can rob thinkers of time and ideas. Exercise may be the antidote, allowing your mind to come up with new thinking.
Sunrise Solars Coworking Offers Fresh Air, A Walking Trail, & Fitness Room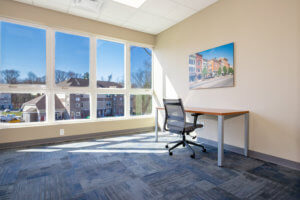 Sunrise Solars Coworking offers everything you need to spark innovative ideas. Whether you simply want to crack open a window to enjoy a little breeze, or you want to mull over some ideas while strolling along our walking trail, you have a partner in idea generation with a workspace at Sunrise Solars Coworking. If you really want to get the blood and ideas pumping, members have access to a fitness room too!
Serving the New York Capital Region, Sunrise Solars Coworking offers day passes, all-access coworking or private office memberships with bookable conference room time included. Enjoy safe meetings in a conference room or in the privacy of your own office with the peace of mind that our high-quality air filtration system brings to you and your colleagues. Meeting and conference room rentals can also be rented by the hour for non-members.
Amenities:
Bookable meeting rooms with conference tech
Centrally located in Latham
New passive solar building
Ultra-fast, secure Internet
Free coffee
Free printing credits
Kitchen and break room
Free Parking
Walking Trail
Fitness room access
Shower
High-quality air filtration
Oversized windows